Another significant profit for clients – September 2021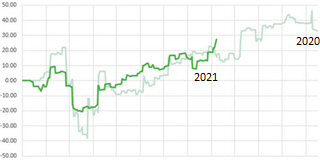 Investui had another outstanding month.The chart and the numbers simply speak for themselves. Net return in August: +19,0%. This is plus € 4.719 on a futures account with € 25.000 invested at moderate risk! The total net return since 2020 now stands at +60,1%. Don't forget... interest rates are negative and inflation is high. The value of money, which is not invested, is going down every single day!
Returning to Peter Lynch – August 2021
With this update, we come back to our post from June 2021. Peter Lynch – one of the most respected investors in the world – stated that an investment manager is really good when he is right 60% of the time. Well, Investui's percentage of trades closed with a profit is.... 60%.
Free demo...
Open an account...